Arnold Abbott was charged and arrested by police in Fort Lauderdale, Florida, for handing out meals to homeless people in a park.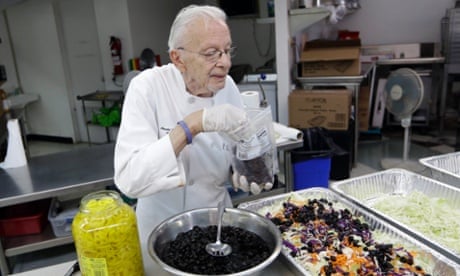 Abbott, a 90 year old war veteran, and two other church ministers could receive a maximum of 60-days custodial sentence and a US$500 fine under a new law that bans people from meal sharing in public.
What is meal sharing? Well I had to ask myself the same question.
My understanding is that meal sharing is a new way to be given a home cooked meal where ever you are. There is even a social media site set up so you can get your home cooked meal. And for some reason the local government doesn't want people eating home cooked meals in public.
Abbott shared his story with Russia Today where he told them that he was stopped by police as he was handing out food to homeless. The police told him to drop the plate he was carrying, "as if I were carrying a weapon."
The arrest hasn't shaken Abbott; he has been back at church preparing more meals to hand out.
Abbott has said that he isn't afraid of being sent to jail and he will keep feeding those most in need in his area.
"I am not afraid at all. I was a combat infantryman for 2 ½ years.
"I've spend 50 years fighting for civil rights for the minorities in this country. I don't have the slightest fear of being arrested.
"The only thing I am concerned about is that there would be nobody to feed the homeless outdoors, which is what I do – and what I intend to do as long as there is breath in my body," Abbott said.
"We have 10,000 homeless in Broward county, which is the county of which Fort Lauderdale is the principal city.
"Most of them are in Fort Lauderdale, and we want to take care of all of our people. We are all God's children," he said.
What the local government has implied is that they're more concerned about the quality of food homeless people are getting rather than the fact that they're getting food at all.
Abbott is a hero, a golden touch who is doing what he wants to to help others. He should be given a medal instead of getting threats from the police.
What the police are implying is that they have solved every case, every crime, every hit and run, every robbery and every last 911 call complaint that they have nothing better to do than stop homeless people receiving home cooked meals.
Get a grip on yourselves. Can't you see that what Abbott is doing is trying to help these people? Abbott is doing a role that the state think they can do but fail every time. He is ensuring helpless people are getting a meal.
Abbott is the true hero.